holiday gifts for people who don't like gifts
I'll be the first to admit I'm hard to shop for. Why? For one, I don't need anything, and the things I want (more time, bear hugs, etc.) are usually not for sale.
Over the years, I have come up with various solutions to my "problem." In recent years, I have avoided exchanging gifts during Christmas altogether, opting instead to buy plane tickets to visit friends during non-holiday months, and splurge on special occasion meals. This has worked out for me. Still, even I know sometimes you just want to wrap something and give it to somebody.
With this in mind, here is my wish list for the year. Hopefully it will inspire you to be extra awesome and get creative.
Instead of adopting a dog — maybe next year! — I'm asking Chris to donate to Badass Brooklyn Animal Rescue, a community of dog rescuers, adopters and fosters that help homeless pups find homes. How can you resist that face? Chip in here.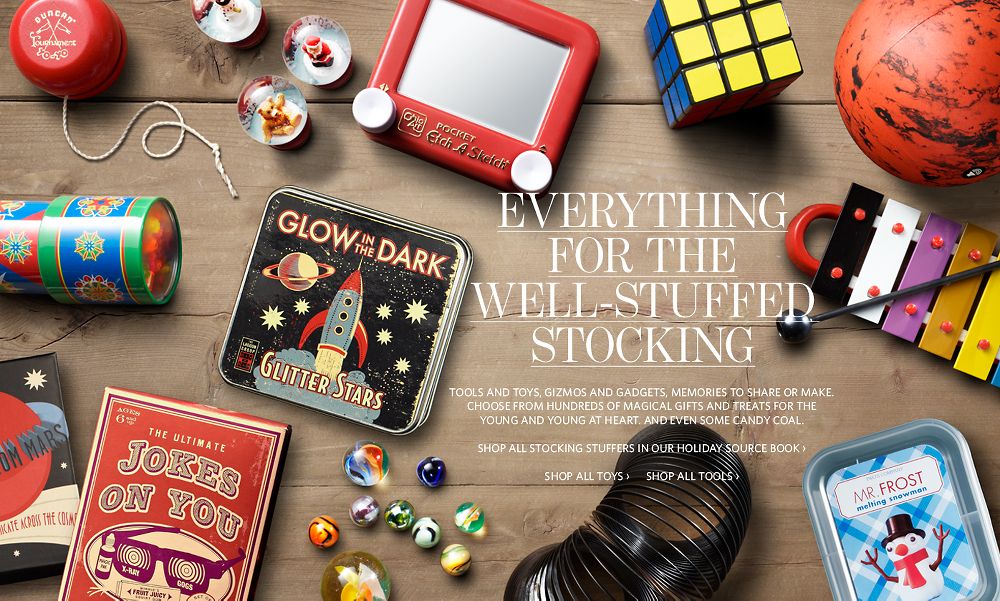 Stuff stockings with useful retro knick knacks from Restoration Hardware. I like this practical music splitter for sharing music, this manly wall-mount bottle opener for $8 and kid-friendly kaleidoscope for looking at changing colors through a small tube. (I really love kaleidoscopes.)
Contact your favorite artist and buy artwork from them. Even better, commission a project. I hired Clair Rossiter, a young artist in the UK, to create two new logos for me this year. One for this blog, and one for Stupidly Simple Snacks. It was the best present to myself. She sells prints of her whimsical watercolors, too. Take a look.
I am not sure if Aaron Stewart sells his cartoon + real life people pictures, but he should. You have to agree this photo belongs on a Christmas card. I'd buy it by the boxful.
See Aaron's funny characters on Plaid Oranges.
A photo session with Alice Gao Photography would make a thoughtful present for your girlfriend or best girl friend. Trust me, most people wish for better photos of themselves than the ones that end up on Facebook. Alice is also selling a lovely 2013 calendar, pictured above, based on her popular Instagram photos.
I love this image by Brooklyn photographer and videographer Eddy Vallante. Eddy's photos are slightly rough around the edges; his subjects are imperfect, sweaty, scruffy and their mascara is running. I like seeing life with its blemishes because that, too, is beautiful, if not more so than something that looks perfect.
Follow Eddy Vallante on Tumblr, and keep him in mind for when you want to remember moments like this and this.
For gifts of food, go Italian. There's something about Italian cuisine that makes it seem festive, decadent and yet approachable all year round, whether it's an Italian cookie plate with rainbow cookies, a thick wedge of Parmigiano Reggiano aka parmesan cheese, or a bottle of Italian red wine served with paper-thin slices of prosciutto. Even the Italian national flag looks Christmas-y.
Pictured above is impossibly soft and delicate culatello, which is cured ham made from the back leg of the pig. If prosciutto was an expensive apartment building, then culatello would be the penthouse.
Not to harp too much on ham, but if you are attending a holiday party and expected to bring food, bring prosciutto or culatello. It will make you the most popular person there, and you can thank me later for it.
In summary, Italian food gifts are pretty fail-proof unless the recipient has specific dietary concerns that exclude happiness.
And the best non-food gifts? Those usually come with a good story.
rainbow cookie image via new york magazine
more than panettone Lucky to be spending the afternoon in La Scuola at Eataly learning to make Italian desserts from food historian and cookbook author Francine Segan. I'm in love with the cover of her latest cookbook, Dolci: Italy's Sweets, and would be lying if I said I wasn't curious about what's inside…
Marcus Samuelsson: "Where is pasta from?"
Kid: "China!"
@ "Kids Cooking Revolution with Marcus" 
Spending the weekend in Saratoga Springs for the Saratoga Wine and Food & Fall Ferrari Festival thanks to the Italian Trade Commission!
Chef Marcus Samuelsson is leading the festivities; he's teaching a cooking class for kids tomorrow morning which I am excited to take part in (as a blogger, not as a kid).
Tonight's dinner event included a performance by Lawrence Harris, the ex-pro football player turned opera singer, tables laden with wines, cheeses, antipasti, pasta AND A WHOLE ROOM FOR DESSERTS. That's where I found this chocolate cup filled with espresso which I topped off with hazelnut gelato, whipped cream and berries. The Italians know food and they excel at dessert. Stay tuned for part two…
The Saratoga Wine Food & Ferrari Festival encompasses three days of food, wine and design-related events to fundraise and support education programs at Saratoga Performing Arts Center (SPAC) and the Saratoga Automobile Museum.
Sometimes I dream of Italian pastries. Then I upload pictures of Italian pastries from my past, like this ricotta cheese-filled cake thing from Rocco's. It wasn't even that delicious, but the thought of ricotta cheese fills me with happiness, like a cannoli.
Good night, tumblr-folk. Sweet dreams with everything you want on top!